Rock On 40 The Legends Bakal Memeriahkan Istana Budaya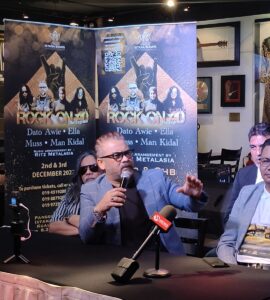 Jualan tiket semakin meningkat. Pastikan bahawa tiada seorang pun daripada anda terlepas pertunjukan legenda di peringkat yang luar biasa ini.
Konsert Rock On 40 : The Legends akan berlangsung di ISTANA BUDAYA pada 2,3 dan 4 Disember 2022.
Siri pertama pada 2&3 Disember akan menampilkan DATO AWIE, ELLA, MUS MAY dan MAN KIDAL manakala pada 4 Disember, SEARCH akan mempersembahkan lagu2 terhebat mereka untuk anda semua.
Gabungan gergasi rock ini bakal menggegarkan Istana Budaya dengan lagu2 rock maksimum untuk anda semua!!!
Jangan lupa untuk dapatkan ticket konsert🔥Rock On 40: Ella, Dato Awie, Mus May dan gitaris legend, Man Kidal serta SEARCH pada malam terakhir🔥sekarang jugak sebelum terlambat!
Nanti bila dh SOLD OUT jangan menyesal pulak ya! Hehehe 🤭🤭🤭
Untuk pembelian tiket atau sebarang pertanyaan mengenai Konsert, anda boleh layari laman web rasmi kita di www.menaranetwork.com
atau
Kalau nak info lebih ataupun nak beli sendiri direct, anda boleh bercakap dengan admin2 kita melalui hotline2 di bawah ni ⬇️⬇️⬇️
🔥https://menaranetworksdnbhd.wasap.my/
🔥https://menaranetworksdnbhd1.wasap.my/
🔥https://menaranetworksdnbhd2.wasap.my/
LU ROCK LU DATANG!!!
Apa2 roger terus admin tu..
#RockOn40 #RockOn40Legends #Ella #Awie #Musmay #ManKidal #6December #searchamy #amysearch #istanabudaya2022 #IstanaBudaya #Legends #LuRockLuDatang